[:sv]Strategi handlar om prioriteringar, att göra val. För femtio år sedan kunde man göra strategiska planer. Under 80-talet handlade strategi främst om konkurrensfördelar och marknadsposition. Därefter gick utvecklingen alltmer åt strategi som process. I en värld som präglas av komplexitet och snabb förändringstakt har vikten av strategiskt tänkande och görande har ökat: strategisk agilitet. Uttrycket "Culture eats strategy for breakfast" dyker upp med jämna mellanrum. Och visst har kultur, normer och vanor stor betydelse för hur en verksamhet utvecklas. Men bäst blir det när strategi och kultur går hand i hand i vardagen. Därför talar jag om Levande Strategi, där 'levande' står för både lyhördhet och agerande. Jag arbetar med långsiktighet kombinerat med handlingskraft och hjälper er med:
Strategiskt tänkande

Strategigenomförande

Emergent strategi
Jag stöttar ledningsgruppers arbete med levande strategi, strategiska processer och är även handledare i strategiskt tänkande för mastersstudenterna vid Ekonomihögskolan, Lunds universitet. Om du vill ha en diskussionspartner kring var er organisation befinner er och möjliga vägar framåt så tar jag gärna ett generativt, samtal. Hör av dig!
[:en]Strategy is all about making choices and priorities. Fifty years ago under more stable conditions, strategic planning was feasible. In the 80's the strategic focus was on competition, core competencies and market share and then shifted to strategy as a process. In a fast moving "VUCA world", your perception, sensemaking and strategic thinking are more important than ever: Strategic agility. Probably you have heard the saying "Culture eats strategy for breakfast". No doubt that culture, norms and behaviours have large impact on the business, they are the business. Yet, the best results are achieved when strategy and culture are aligned. Action informs insight and insight informs action. That is why I am talking about Living Strategy, where 'Living' stands for the culture, the doing and being that we manifest in our daily actions. While you do not make a detailed strategic plan, you still need to make priorities when navigating in complexity and ambiguity. I work from an integrated approach to strategy, culture and structures for execution.
Strategic thinking
Strategic doing
Emergent strategy
I am available for generative dialogue on strategic leadership and a regenerative culture. Let's talk!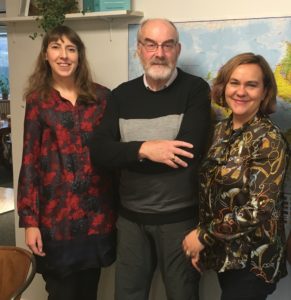 Together with Dave Snowden, Cognitive Edge, and Sonja Blignaut, More Beyond, after Sonja and I gave a seminar on navigating in complexity.[:]